Tennessee haters are already having a field day with the arrest of three Volunteers for an attempted robbery at a gas station last night in Knoxville. Jimmy Buffett's The Great Filling Station Holdup is getting more plays today than your friendly, neighborhood adult webcams.
(Somebody might wanna update the "news" page fellas)
Yesterday, Lane Kiffin mentioned that he and his staff needed to "continue" to keep his players out of law-breaking circumstances: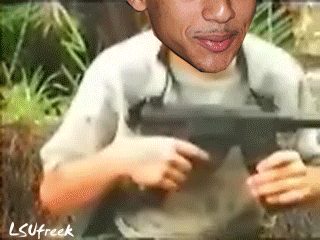 (Credit: LSU Freek)
If we do the things we are supposed to do, continue to recruit, continue to win games and continue to graduate players and keep our players out of trouble, I don't think it matters."  
And of course, we all remember his comment to a recruit who he told would end up "pumping gas for the rest of his life" if he picked South Carolina over Tennessee.
So if you're Kiffin, do you continue to spout off, or do you finally cement over your piehole? I'm guess Kiffin will hit the mute button until the offseason. Especially in light of his prized trio's legal troubles.